ORDER NOW
https://medicalstorebd.com/product/techrupt-mesh-portable-nebulizer-for-childrens-adults/
Description
Power: 2.0w
Atomization rate: ≥0.2ml/min
Atomized particles: 1-5 u m
Liquid cup capacity: about 8ml (Max), about 0.5ml (Minimum)
Product size: 4.5×4.5x10cm
Working frequency: 120KHz±10%
Weight: 90g
Product details of Portable Ultrasonic Nebulizers, Nebulizer Machine for Adults,Children,Home Travel,Rechargeable USB Handheld Compressor Mist Steam Inhaler
Safe/Technical Superiority:Material:ABS PC,CE approved.Atomized particles can up to 1-5 um,can effectively get treatment.Mouthpiece,Face mask.(Two ways to use)
Easy to carry and use: Small size,light weight (only 90g).– at home, office, trip using.One switch button,can use the treatment anytime, anywhere, saving medical expenses and avoiding cross-infection in hosptial.
Wide application:Great for Adults and Children,also for Beauty Skin Care, Car Air Humidification, ordinary atomization therapy and Dental Health Care.
What You Will Get:1x Handheld Nebulizer Machine, 2 x Masks (1 Adult, 1 Child), 1x Mouthpiece, 1x Nebulizer adaptor, 1x USB, 1x Manual.NO BATTERIES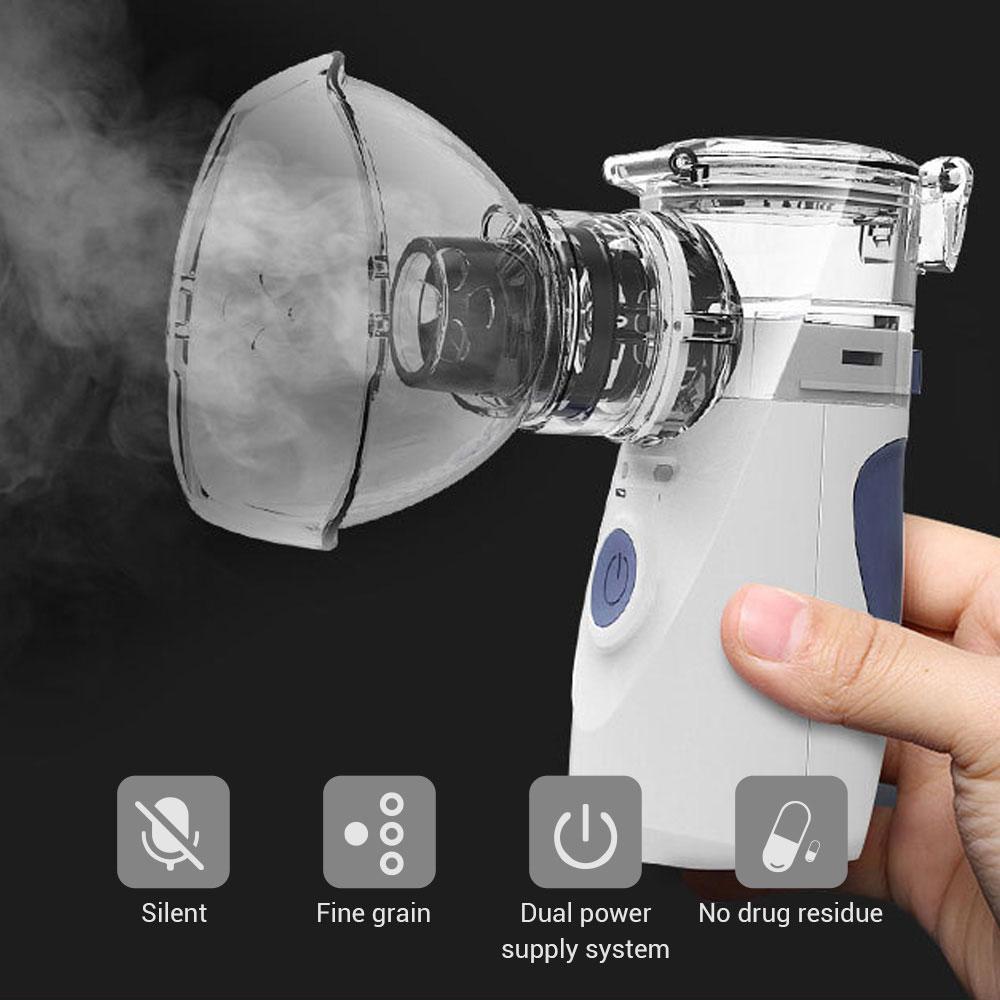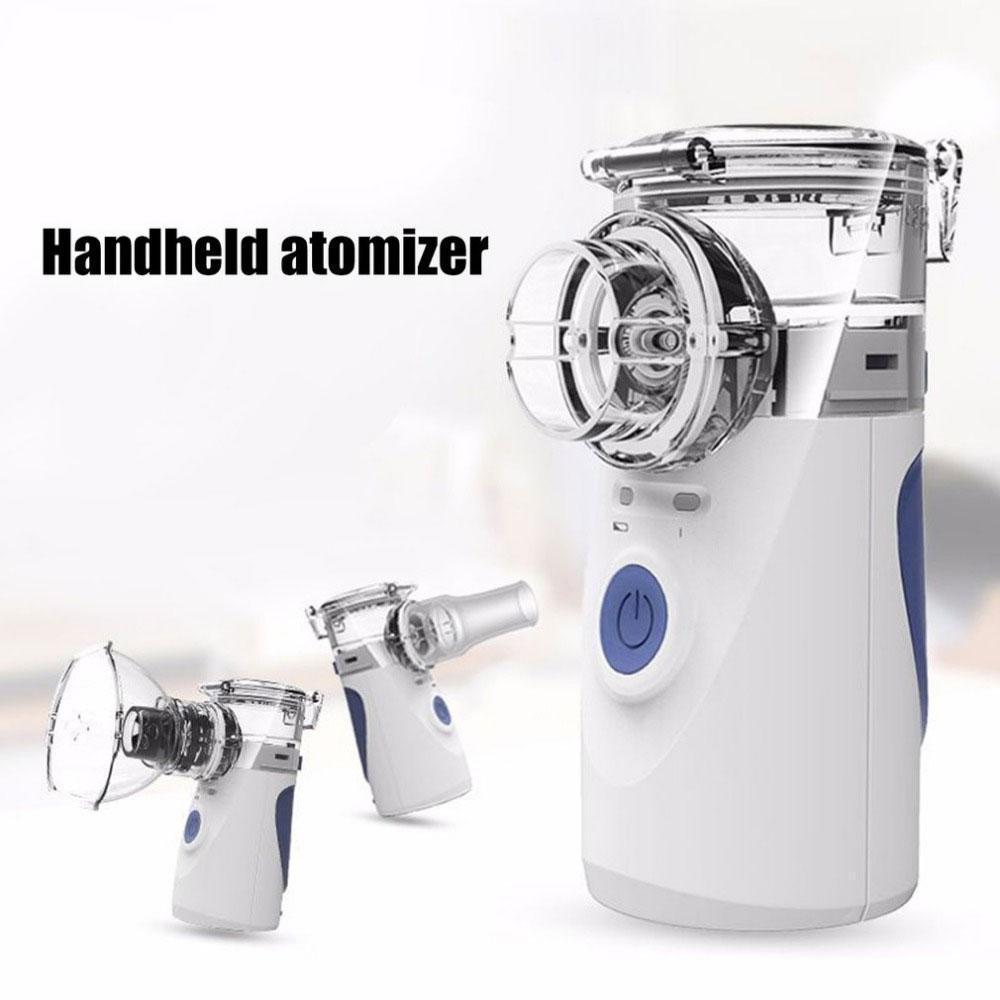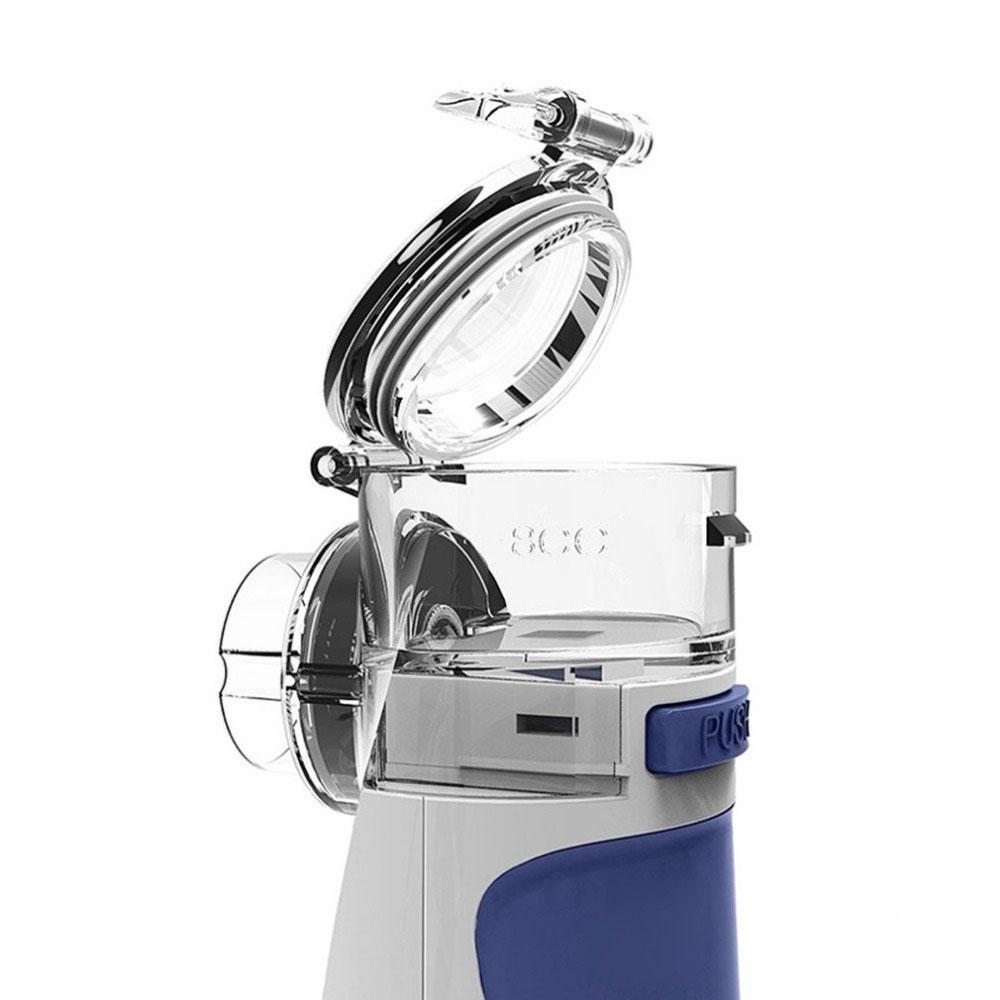 Specification:
Power: 2.0w
Atomization rate: ≥0.2ml/min
Atomized particles: 1-5 u m
Liquid cup capacity: about 8ml (Max), about 0.5ml (Minimum)
Product size: 4.5×4.5x10cm
Working frequency: 120KHz±10%
Weight: 90g
Features:
This inhaler comes with One Mouthpiece, One Large Mask for Adults and One Small Mask for Kids,it is suitable for Both Kids and Adults.
Timing: After 15 minutes working, this inhaler will turn off automatically. If you want to make it continuous work, You need to press the ON/Off button manually.
How to Use:
1.Take out of the machine and check for Power.
2.Easily open the Liquid Cup,add the appropriate amount of liquid.
3.Install the mask or mouthpiece.
4.Press NO/OFF to begin work.
5.Star atomizing.
6.Press the ON/OFF to turn off the machine.
NOTES:
1. Children should only use the nebuliser with help and under supervision of an adult;
2. Clean and disinfect the device before and after use;
3.Please do not use flowing water to directly swash the medicine cup;
4.Do not wash the nebulizer,but can take down the medicine cup separately;
5.Ensure that you do not touch the mesh with cotton swab,toothpick, as this may destroy it.
6.Battery Mode:2x3A AAA Batteries Required or Charge with USB to use (Please remove the batteries when charging to use,can't be used at the same time.)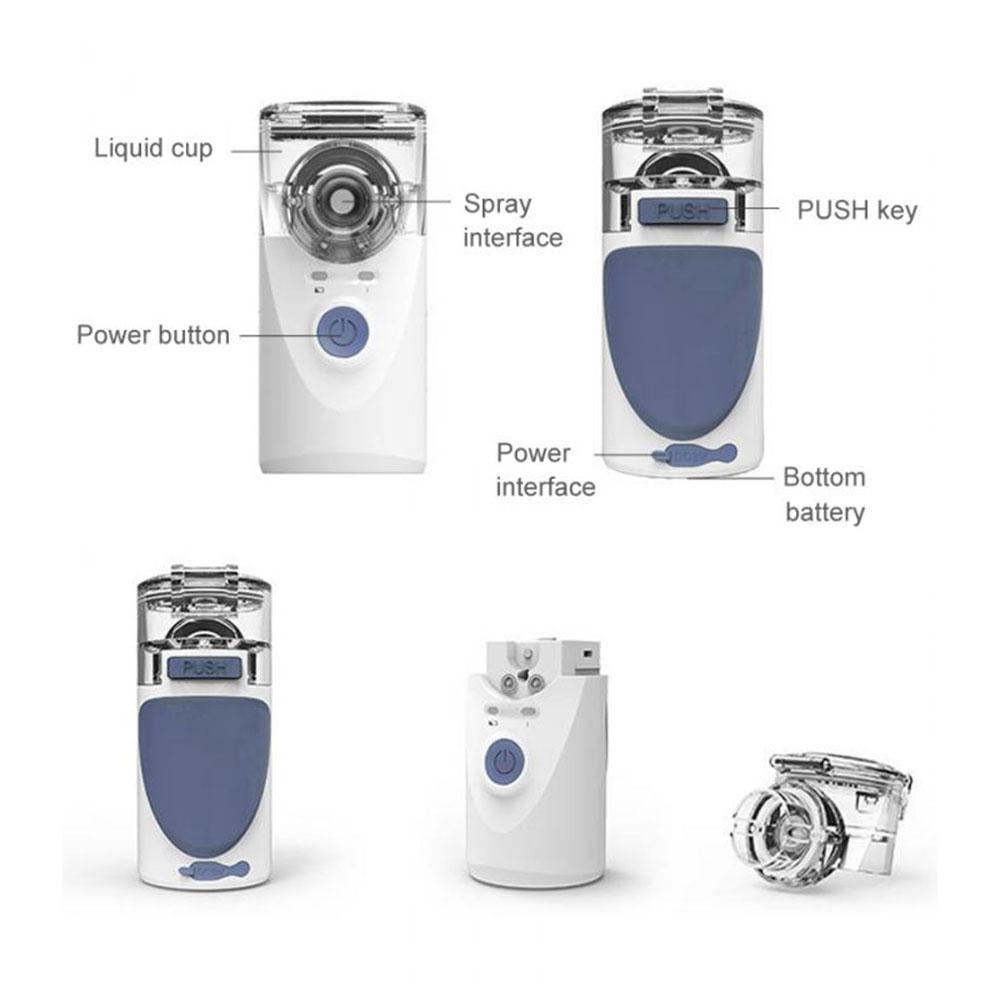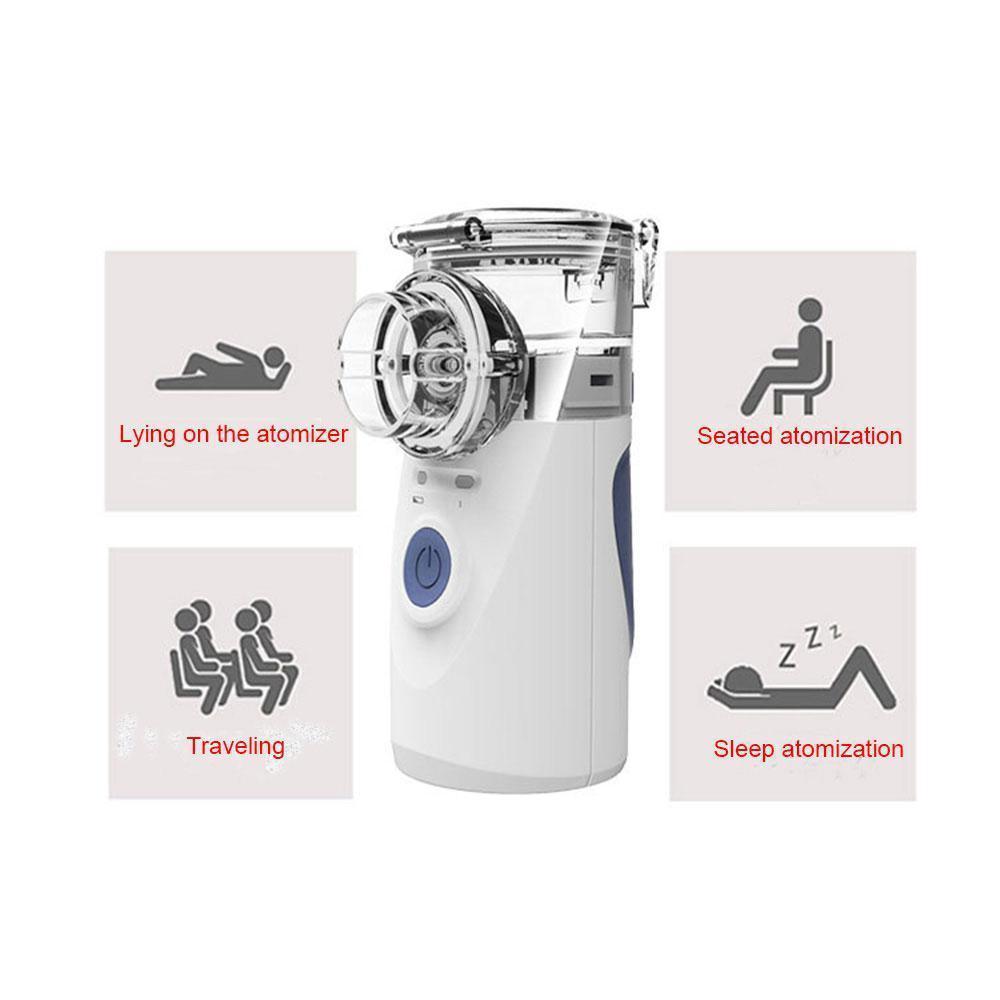 z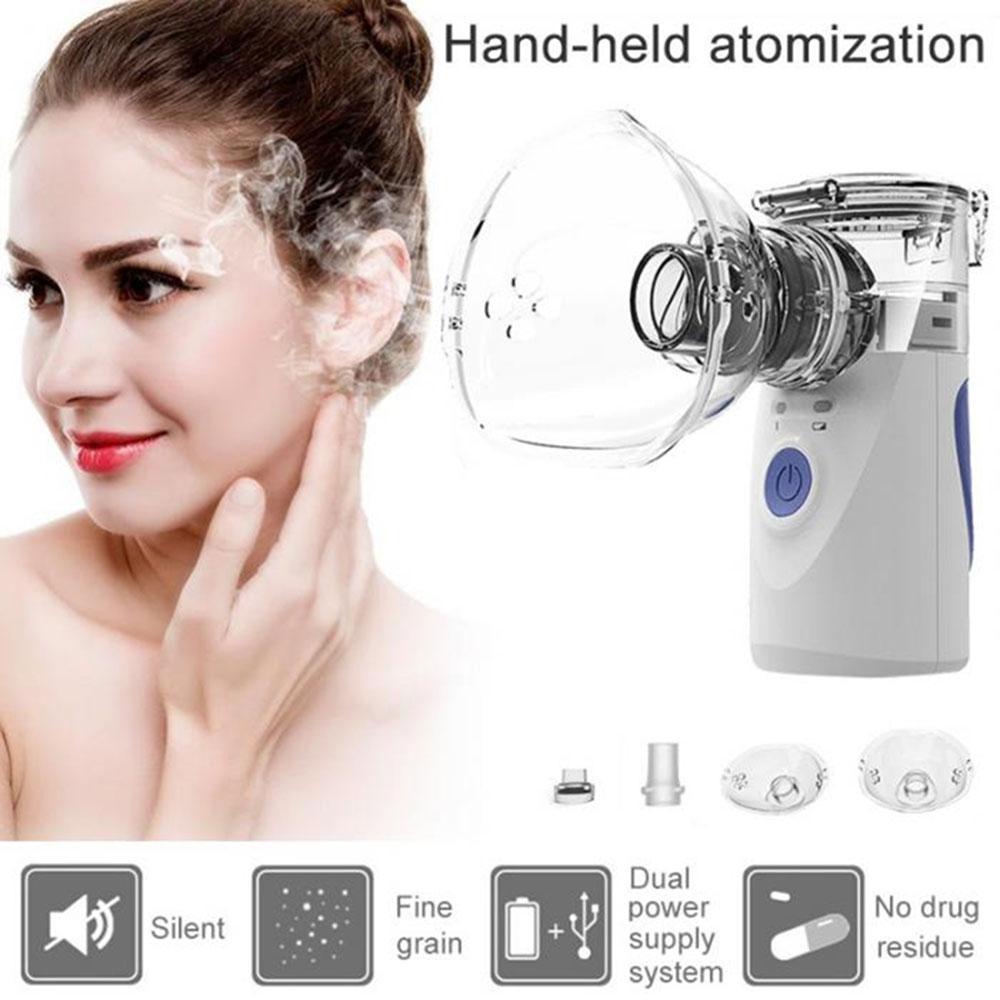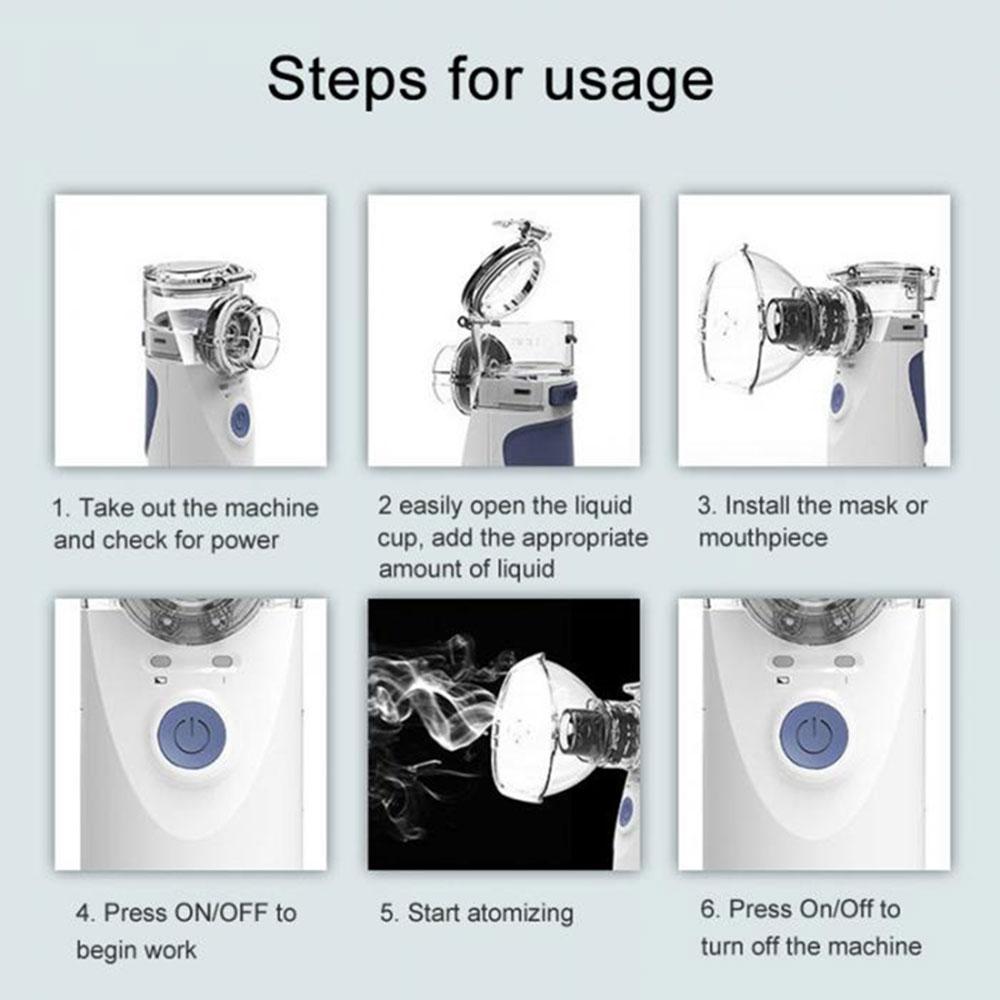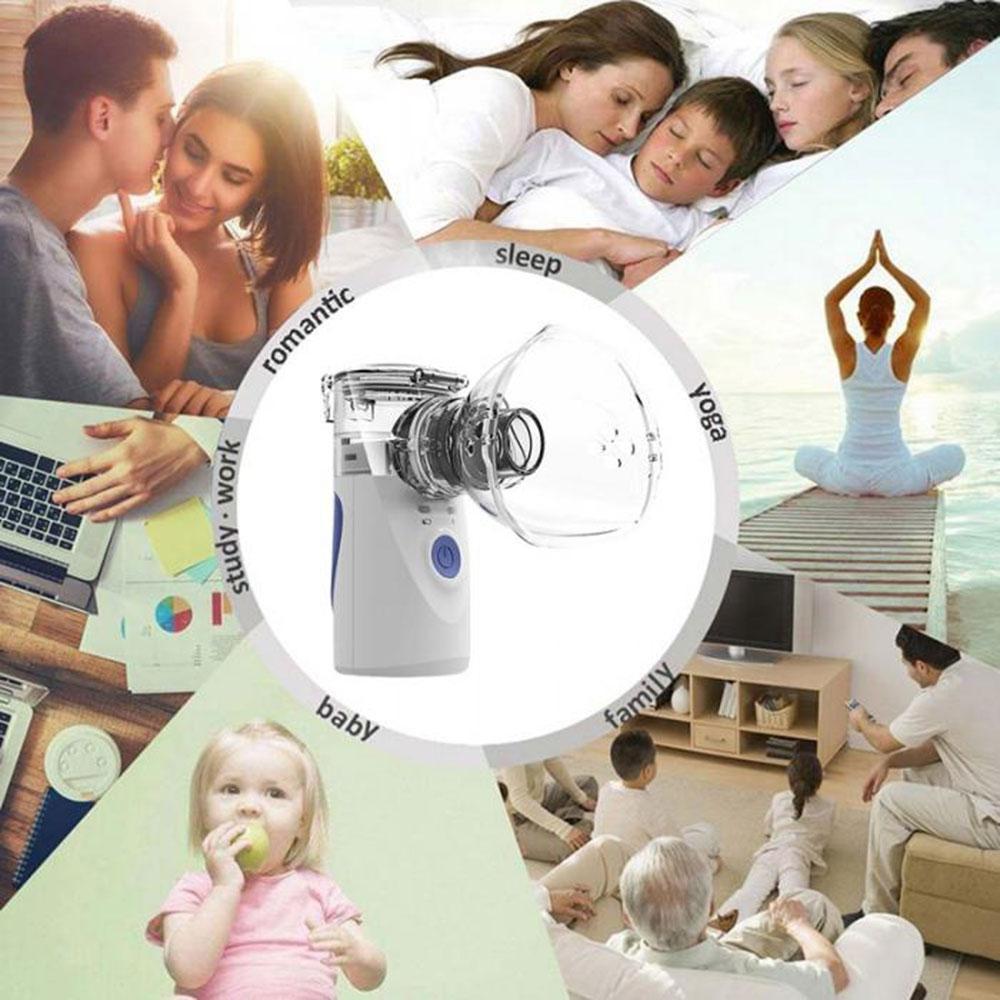 Specifications of Portable Ultrasonic Nebulizers, Nebulizer Machine for Adults,Children,Home Travel,Rechargeable USB Handheld Compressor Mist Steam Inhaler
Detailed Images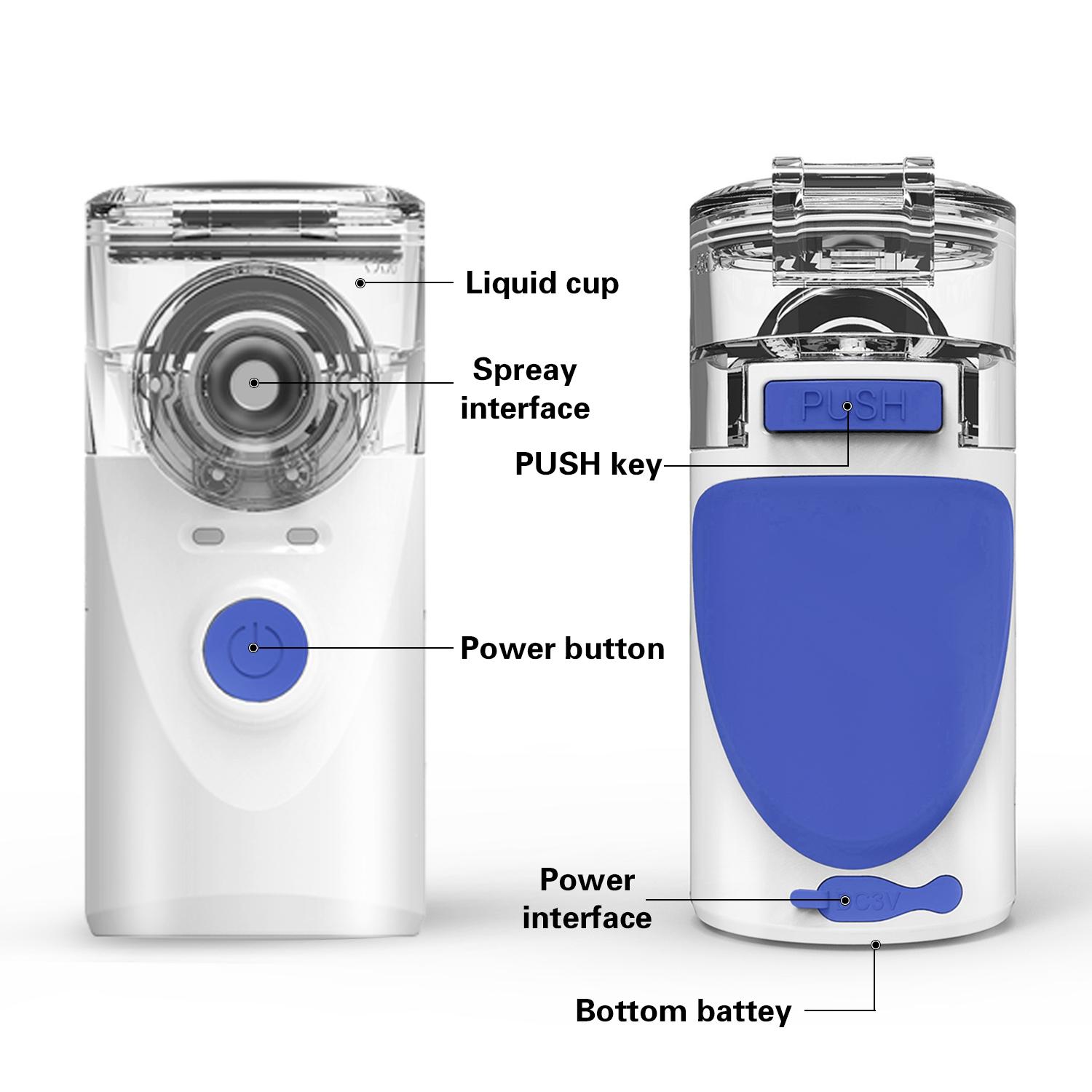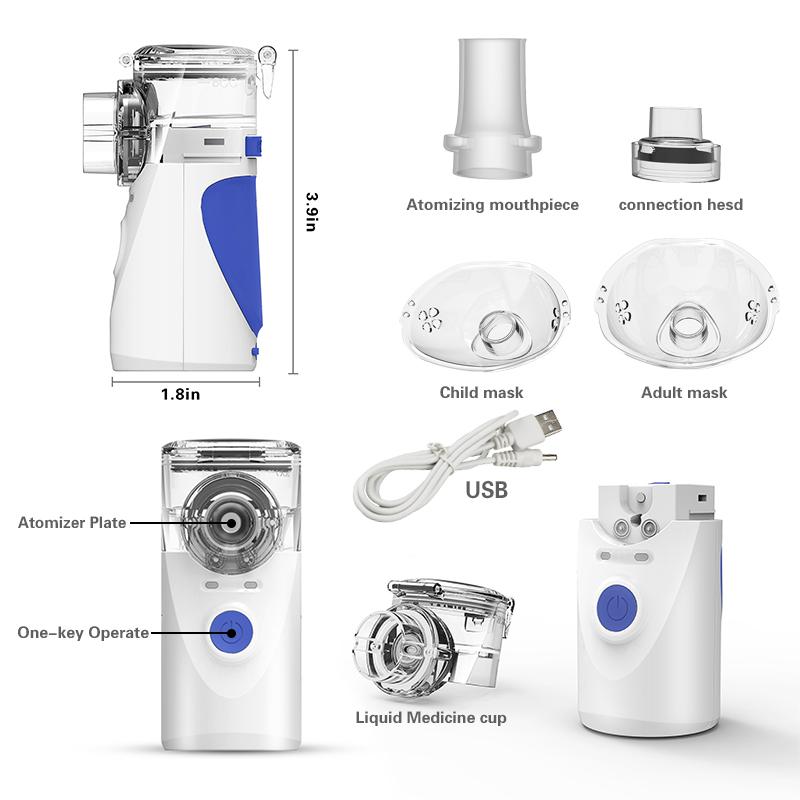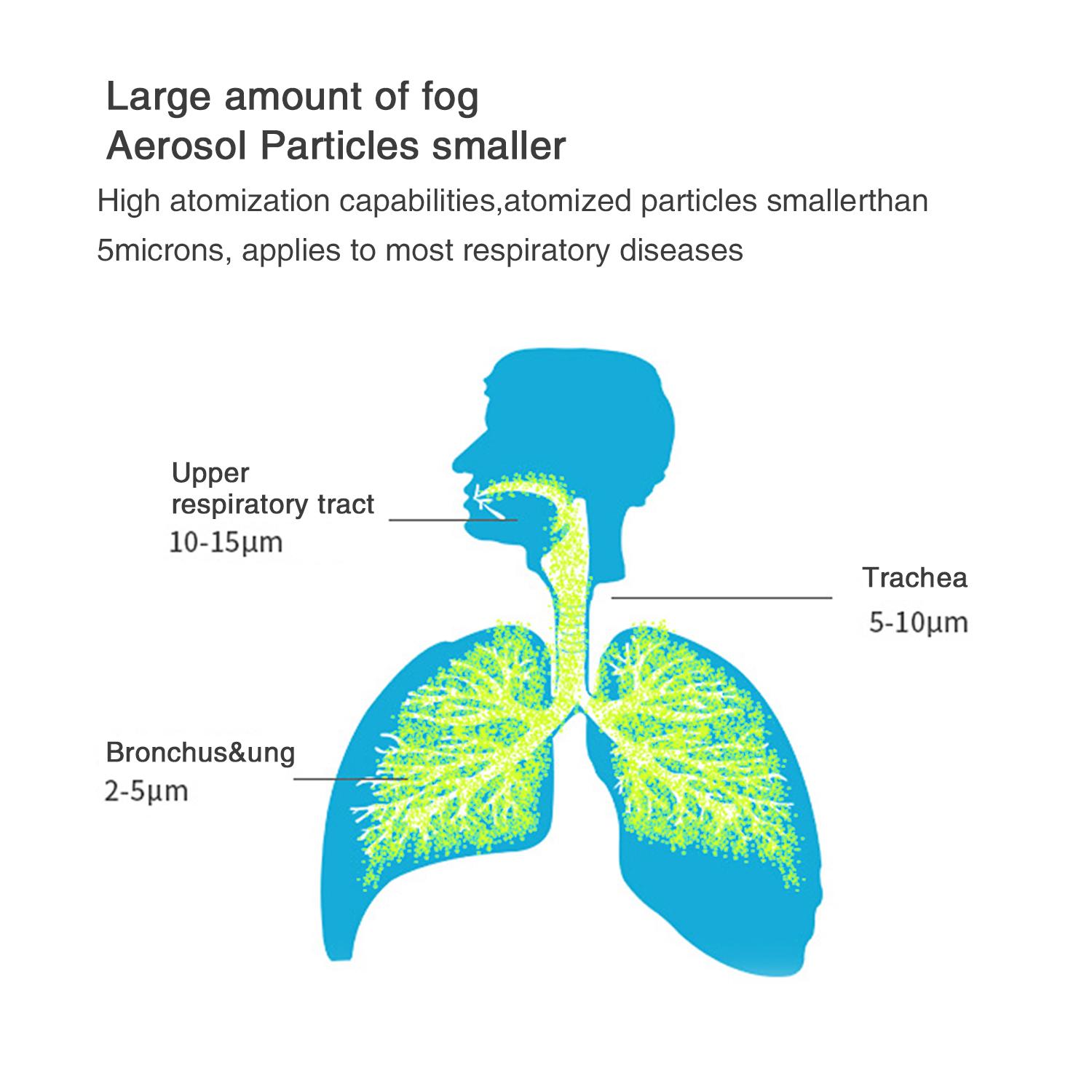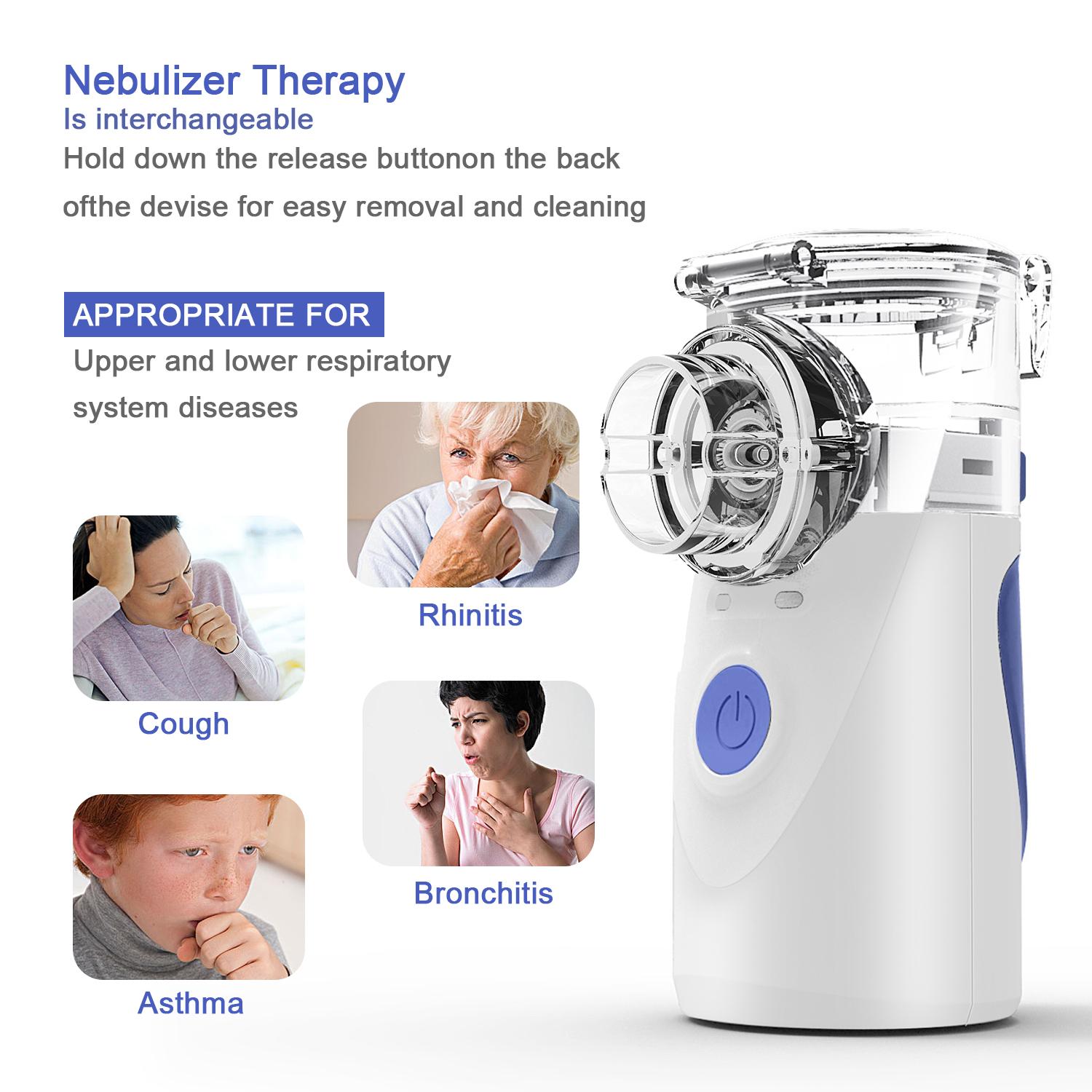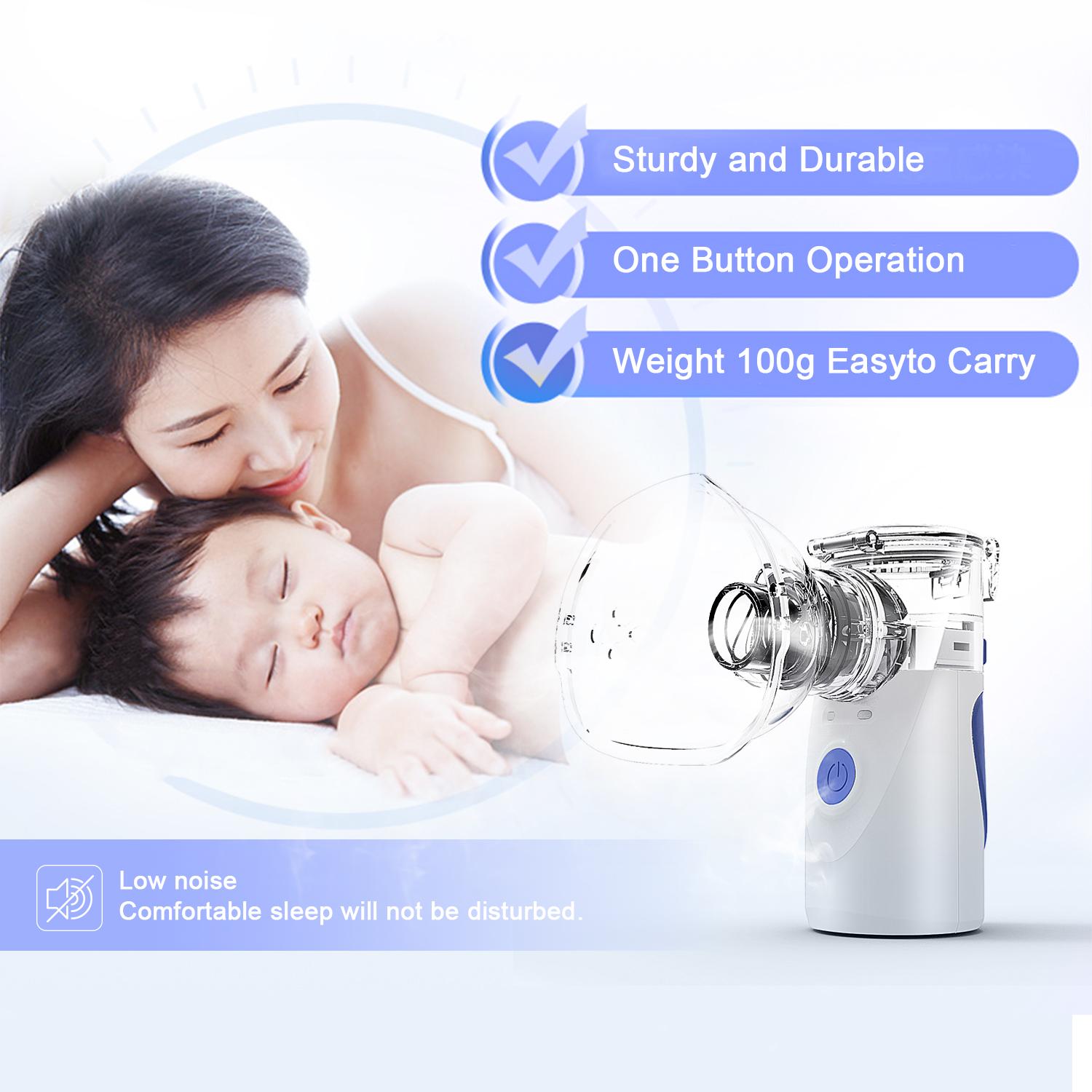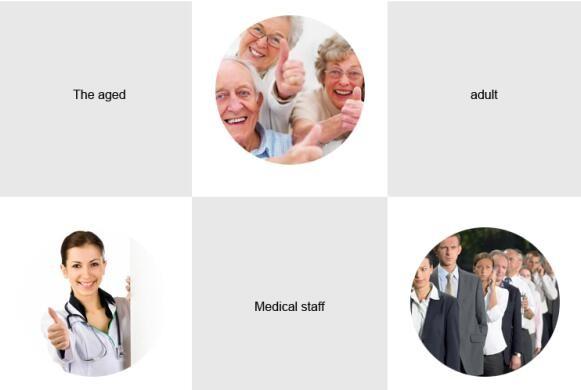 What's in the box
1x Handheld Nebulizer (contains a liquid medicine cup),
1x Children's Mask,
1x Adult Mask,
1x Atomized Mouthpiece,
1x Spray Interface
1x USB Cable
1x Instruction Manual